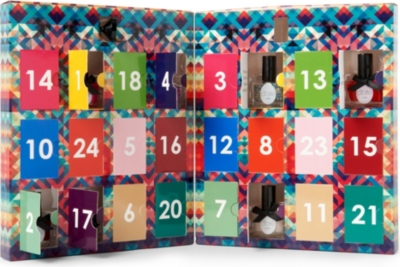 So i am slightly obsessed with this advent calender, i don't need any encouraging when it comes to being excited about christmas but this just tips me over the edge! I am very insistent that i have a regular chocolate filled advent calender every year (even though every year my parents tell me i'm too old) so when i saw this that was it, it was like i had been struck like lightning!!!!!
It's used just as you would a regular advent calender, you open a door a day and behind is one of Ciate's amazing nail products, it's gorgeously packaged with 17n of Ciate's bestselling mini paint pots, 4 mini caviar blends and 3 extremely special exclusive glitter shades you will not find anywhere else!!!!!
Even thought this is designed for the lead up to christmas i still think if it was given as a gift at christmas it's oneof the cleverest gifts i have ever seen as it makes it all such a special surprise and you have no idea which treat sits behind each door.
This is every girls dream and at £38 pounds i still think it's a bargain because can you imagine how much it would cost to buy that many nail polishes?
Check it out
HERE
and let me know what you think or if you have managed to get one!!!